About ALPHA
Greetings from the President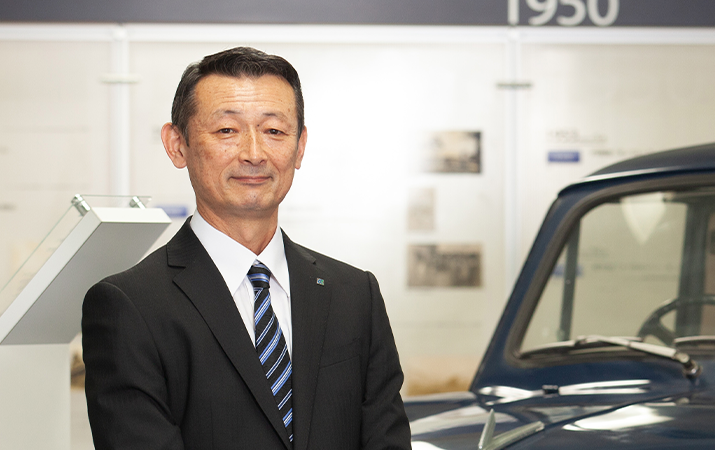 Aiming for centennial company.
As a lock manufacturer, ALPHA Group offers products created through its continuous quest for "security, peace of mind and convenience." And coming 2023, we will be celebrating our 100th anniversary.
Our Group started the new 4-year midterm business plan "MP2022" in FY2019. Setting the business targets of "Sales: 70 billion yen" and "Operating Profit Ratio: 6.0% or higher," we aim to raise our profit constitution to a higher stage. The Key Performance Index (KPI) of "New Product Sales Ratio: 25% or higher" stays the same as in the previous business plan. For financial targets, in addition to "Equity Capital Ratio: 50% or higher," we have newly set "ROE: 8% or higher."
As to main objectives, we will continue to pursue the 3 objectives which are the same as in the previous midterm plan, only with a change in priority. By placing "Development of new businesses and products" – improving the new product sales profit ratio – atop in the new plan, we will pursue it as the most important task to further strengthen our profit constitution.
The 2 remaining main objectives, "Strengthening our profit base" and "Developing human resources," are those on which we cannot lose our hold of pursuit for sustainable growth, and we believe continuous investment on them is imperative.
As the management stage changes, naturally, so do investment destinations. In the previous midterm business plan, M&A was mostly the major destination of investment. Now, the "bony framework" necessary for future growth has been set accordingly. In the new midterm plan, the framework needs to be put "fresh and blood" on it. In our ongoing pursuit for the "Management by Region," we will actively make investments on equipment for enhancement of productivity/efficiency of each region as well as on human resources for generating added values. And we hope to be a "group with the spirit of autonomy and independence" when we celebrate our centennial.
ALPHA Group will continue to strive toward a "centennial company," and further. Continued understanding and support by you stakeholders on business of our group would be very highly appreciated.


President,Representative Director Yoshiyuki Kawana