About ALPHA
Corporate Philosophy
ALPHA WAY - Aiming to be a centennial company -
ALPHA now promotes "Management by Principle." It refers to the activity in which Corporate Philosophy, Management Principle, Human Resources Principle, Management Vision, Mission and Action Guideline (Passion) are put in a statutory form and, through every employee's complete understanding of their contents that fosters "unification of values" within ALPHA Group, management is carried out accordingly.
We named the starting point for practicing the Management by Principle "ALPHA WAY." With all employees in ALPHA Group working together in pursuit of "ALPHA WAY," ALPHA aims to celebrate its centennial in success.
Organization of ALPHA WAY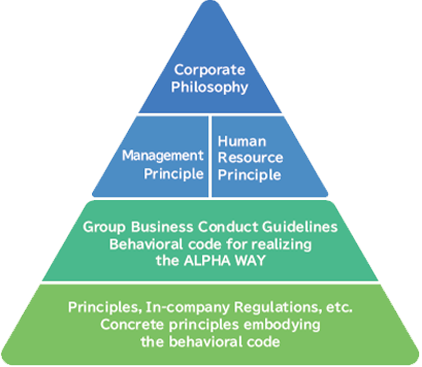 Corporate Philosophy = Company Credo
With the mind freshened every day, we will keep changing ourselves.
For a company to develop and grow, it is necessary to have both "the principle that does not change" and "an ability of responding to changes": two elements that may appear to conflict each other at a glance. With this Corporate Principle shared as "Unchanging Axis" among us, and by correctly understanding the ever-changing business environment, we will change ourselves to cope with it and make our way toward the future.
Management Principle
Enhance the quality and performance of each of us, create and provide the value that is appreciated by our customers.
Based on a mindset that places utmost pleasure of ALPHA Group on customers' joy, we will build a corporate culture where everybody can perform to the best of his/her potential, and provide customers with new values created through gathering everybody's ability. By doing so, we will eventually enhance our brand value as well as our profitability, which is essential for sustainability of a company.
Human Resource Principle
With the Spirit of Autonomy and Independency, we think and act by ourselves and continue our self-growth through work.
"Autonomy" means to have an will "think of our own accord." "Independency" means to have a sense of self-reliance that is to "take the initiative and stand on our own feet, staying away from dependency and passivity."
It is necessary to create an environment "for people to grow," not to "grow people."
Management Vision
Progress globally under the concept of "Innovation for Access".
Achieve "Innovation for Access" to create the value that exceeds customers' expectations. (Customers' value = Good product with reasonable pricing)
Continue to always put Innovation into practice, place importance on the joy of working, and fulfill our self-growth.

Mission
Continue to grow with diversity of all employees as the source of power.
While pursuing the Good Product with Reasonable Pricing, contribute to having the low-carbon society.
Follow the rules of society, and perform "Honest and Fair" corporate activities.
Action Guideline (Passion)
By exerting our organizational strength with the sense of unity, strive to achieve the optimum organization.
Always think and act from the perspective of Customer Satisfaction.
Carrying out self-development, continually challenge ourselves to reach new goals.